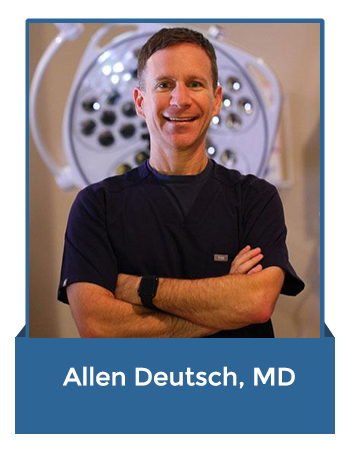 Orthopedic Surgery, Shoulder
Board-certified orthopedic surgeon and rotator cuff repair specialist Allen Deutsch, M.D., has been proudly serving the Houston community since 2000. Dr. Deutsch offers the most advanced techniques in sports medicine, including orthobiologics and regenerative medicine, at his practice in Bellaire, Texas.
Dr. Deutsch earned his medical degree from Albert Einstein College of Medicine in New York City. He then went on to complete his orthopedic surgery residency at Case Western Reserve University in Cleveland and his fellowship in shoulder and elbow surgery at the University of Pennsylvania in Philadelphia.
After completing his medical training in various other cities, Dr. Deutsch and his wife moved to Houston. Over the years, Houston exceeded their expectations professionally and personally. Dr. Deutsch commenced his orthopedic practice as the shoulder and elbow specialist for Kelsey Seybold Clinic.
Always on the cutting-edge of orthopedic medicine, Dr. Deutsch is involved in ongoing, industry-supported research in several areas, including new techniques for improved healing in rotator cuff repair surgery, nonsurgical management of shoulder injuries, and minimally invasive surgical techniques. He's also actively involved in working on the indications for using orthobiologics, including platelet-rich plasma (PRP) and other regenerative medicine techniques.
Dr. Deutsch serves as clinical assistant professor in the department of orthopedic surgery at several academic institutions, including Baylor College of Medicine and the University of Texas Medical Branch at Galveston.
Taking care of patients is a privilege that Dr. Deutsch doesn't take for granted. When he's not tending to patient care or researching new methods, Dr. Deutsch loves spending time with his wife and their three wonderful children.