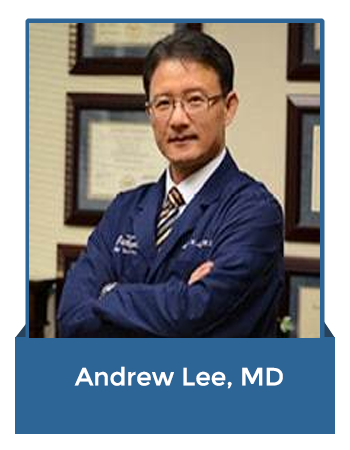 Andrew Lee, MD.
Orthopedic Surgery, Hand
Dr. Lee has been practicing in Houston for more than 17 years and is considered an expert in his field. He is double Board Certified in Orthopedic Surgery and has additional qualifications in Hand Surgery.
He graduated from the University of California at Los Angeles with a Bachelor of Science degree in 1988. He went on to earn his Doctorate of Medicine at Howard University, Washington D.C. in 1992. He completed his residency in Orthopedic Surgery at Howard University Hospital in 1997 and received training at George Washington University affiliated hospitals. Dr. Lee completed his fellowship in Hand Surgery at The Hand Surgery Centers of Texas and his Microvascular training at Baylor College of Medicine. He has received numerous academic accolades including Maimonedes Scholar's Award for outstanding leadership in residency.
Dr. Lee has extensive experience in both hand and orthopedic surgery with an expertise in arthroscopy. He is the reviewer for the Journal of Hand and Microvascular Surgery and has authored many hand and orthopedic publications. His latest work with endoscopic decompression for peripheral nerves was published in the Journal of Hand Surgery.
He is an active member of American Society for Surgery of the Hand and fellow of American Academy of Orthopedic Surgeons. Dr. Lee is an accomplished surgeon, musician, and has devoted much of his time over the years to medical missionary work abroad.