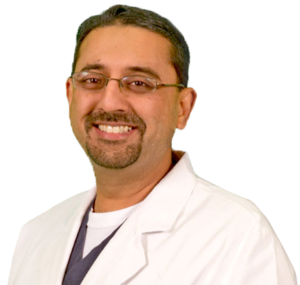 About Dr. Ahmad Ata,
Ata Ahmad, M.D., P.A. is a native of New Orleans, Louisiana. He attended Baylor University in Waco, Texas where he graduated with a Bachelor's Degree in Biology. He went on to attend medical school at Louisiana State University in New Orleans.
Dr. Ahmad completed his surgical training at the Louisiana State University Health Science Center in New Orleans, Louisiana. After completing his surgical training, Dr. Ahmad opened his own private practice in Bay City, Texas where he spent the next five years specializing in general and laparoscopic surgery. While in Bay City, Dr. Ahmad developed a special interest in Bariatric Surgery.
He has successfully completed extensive training and certification for laparoscopic gastric sleeve and banding. Currently, Dr. Ahmad practices in Northwest Houston with surgical privileges at Houston Northwest Medical Center, Humble Surgical Hospital, Cypress Fairbanks Medical Center, Methodist Willowbrook Hospital, and Tomball Regional Medical Center, North Cypress Medical Center, The Methodist Hospital – Med Center, and St. Luke's Hospital at the Vintage.
He is one of the most experienced laparoscopic surgeons in Houston and has performed many laparoscopic procedures. Dr. Ahmad has performed surgeries in New Orleans, Dallas, Baton Rouge, Houston, and various cities across the country.
Dr. Ata Ahmad is a Board Certified General Surgeon by the American Board of Surgery. Whether you need a surgical consult, outpatient surgery, or bariatric surgery, you can be confident that you will be treated by a highly trained physician and staff, utilizing the latest and most innovative methods.
Dr. Ahmad has memberships in:
The American Society for Metabolic and Bariatric Surgery
American Medical Association
The Society of Laparoendoscopic Surgeons
The Society for Surgery of the Alimentary Tract
American College of Surgeons
The Society of American Gastrointestinal and Endoscopic Surgeons
The American Society of Breast Surgeons
Dr. Ahmad Ata's Specialities
Specialty
General Surgery, Bariatric Surgery, Laparoscopic Surgery
Education & Experience
Medical School
Louisiana State University in New Orleans
Residency
Louisiana State University School of Medicine in New Orleans
Internship
Baylor University in Waco, Texas
Fellowship
Certificates and Licensure
Medical License
Certification
American Board of Surgery