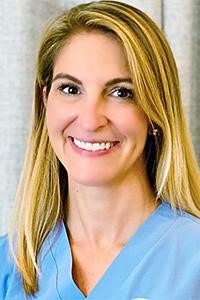 Mary Bowden, MD.
ENT Surgery
Dr. Bowden completed her residency at Stanford University and is board-certified in both Otolaryngology and Sleep Medicine. In 2003, she moved to Houston and worked with Drs. Kyle McCutcheon and Alasdair Gilchrist at Memorial Northwest Otolaryngology. She specializes in sinus, sleep and allergy disorders and treats both children and adults.
As a mom of four boys, Dr. Bowden has spent many years being on the other side of the doctor-patient relationship. Her frustrations with the traditional medical system inspired her to open BreatheMD in 2019, with the goal to simplify and improve patients' office visit experiences. To optimize efficiency, she has multiple diagnostic modalities available on-site so patients can leave her office with a treatment plan. Access to her clinic is easy with ground-level parking and online appointment scheduling. Patients are expected to leave the visit feeling better, with medications and procedures available in her clinic. To eliminate red-tape , Dr Bowden has opted out of all insurance plans but keeps her prices affordable and transparent. Direct contracting with employers who self-insure is an option for many patients.
Dr. Bowden is also interested in research and is currently working with physicians at Methodist to publish her findings from recent COVID-19 testing. For a list of Dr. Bowden's publications, please click here.
She is on staff at Methodist and Memorial Hermann Hospitals, is co-leader of the Houston chapter of the Free Market Medical Association, and serves on the advisory board at the Validation Institute.