About Texas Medical Management
Texas Medical Management is your Free Market Medicine solution in Texas for surgical procedures. We offer competitive, transparent prices on surgical procedures across a broad range of specialties, both outpatient and inpatient.
To keep our cost down we don't accept insurance.
We do accept cash, credit cards and members of healthshares.
Our surgeons and anesthesia providers deliver quality, affordable, convenient surgical procedures in one of our five accredited surgery facility partners:
Austin, Texas Locations:
Houston, Texas Locations:
With practice locations and facilities across the Austin and Houston area, Texas Medical Management is providing the best care at a fair price.  Check out surgery prices using our easy-to-use pricing tool to see an updated list of our transparent prices; if you don't see your procedure on our list, we have hundreds more, so just give us a call at (512) 967-6238.  Contact us to learn how we can best help you.
If you are responsible for paying a large amount of your healthcare costs, are concerned about the rising cost of healthcare and want to know the cost of your procedure upfront, you have found the solution, Texas Medical Management.
At Texas Medical Management, our mission is to deliver the highest quality care at transparent, competitive prices. We do this by partnering with our superior surgeon partners, peer-selected by our surgeon board for their expertise, patient outcomes, focus and reputation for great customer service. We believe that removing the impediments to a good doctor-patient relationship will improve healthcare for all of us.
What makes us different is what makes us good for you. Texas Medical Management is a partnership between the peer-selected surgeons and innovative business partners with a goal to supplant a broken healthcare system with a new innovative model that delivers the best care at affordable prices for patients and families.
Bad medicine adds a lot of cost to healthcare… costs we all unnecessarily bear. To fix this, we only partner with the best providers and they are in charge of your care. This simple concept is clear to patients but unfortunately is not so clear to everyone in healthcare!
We cut out loads of unnecessary costs by removing the middleman and eliminating the complexity and the high cost of bureaucracy. We share those savings with you and your surgeon.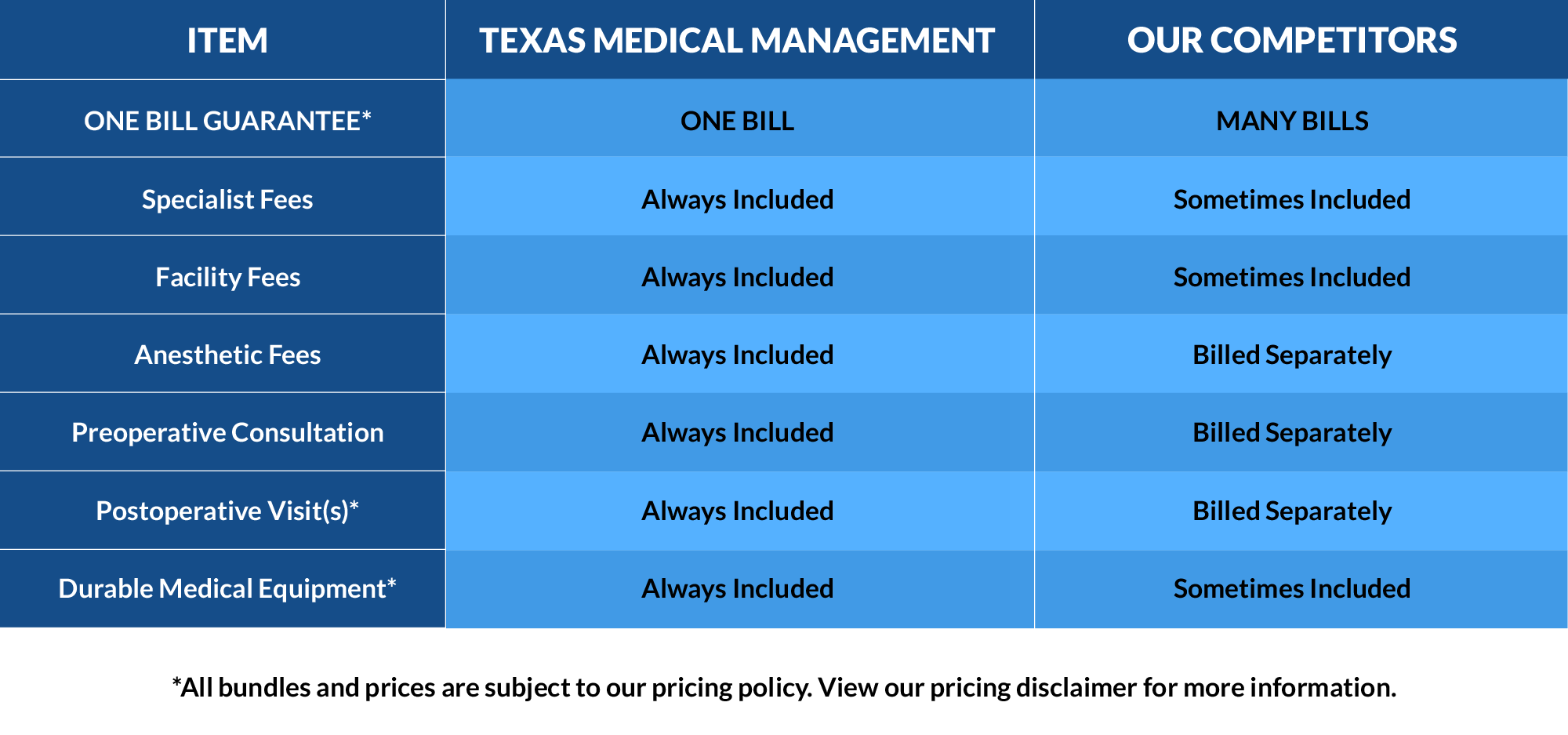 Get an Appointment
Complete the form below and one of our Surgery Experts will get back to you shortly.
If you require information ASAP, click here:
IMPORTANT: Call 911 if you are experiencing an emergency that requires immediate assistance from the police, fire department, or ambulance.