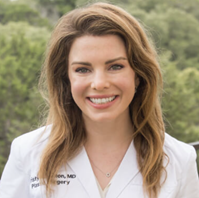 Kristy Hamilton, MD.
Plastic Surgery
Kristy L. Hamilton, M.D. is a plastic and reconstructive surgeon in Houston, Texas. Dr. Hamilton creates a customized, tailored experience for her patients to achieve their aesthetic goals. She understands each patient's individual needs and applies her surgical skill with meticulous detail to create a natural and beautiful result. Her patients' well-being is her utmost concern, and she is well known for her compassionate care.
Dr. Hamilton offers the full range of bespoke aesthetic plastic surgery including rhinoplasty, eyelid surgery, facelifts and facial rejuvenation, fat transfer, chin surgery, breast augmentation and lifts, body contouring and liposuction, as well as reconstructive facial and breast surgery.
Dr. Hamilton is passionate about plastic surgery, and she enjoys blending her love of both science and the arts. She attended Vanderbilt University and received an Honors degree in both mathematics and French, with double minors in chemistry and biology. As a commissioned artist as well as a scientist, plastic surgery was a natural pathway for Dr. Hamilton to blend her artistic side with scientific precision