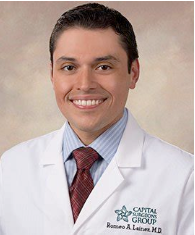 Romeo Lainez, MD.
General Surgery
Bariatric Surgery
Dr. Romeo Lainez performs advanced laparoscopic surgery and robotic surgery, bariatric surgery including gastric bypass, sleeve gastrectomy, Lap-Band® maintenance/removal, revision surgery, colon surgery, abdominal/intestine surgery, GERD treatment/antireflux surgery, robotic hernia surgery and breast disease (breast surgery and breast biopsy).
He is a member of American College of Surgeons, American Society for Metabolic and Bariatric Surgery, and Hispanic Physicians Association.
Dr. Lainez enjoys playing guitar, working at animal shelters, snowboarding, reading books, watching movies and CrossFit training.