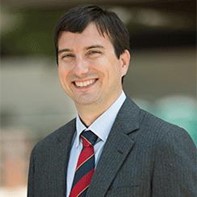 Sean Gallagher, MD.
Orthopedic Surgery, Total Joint
At ATX Orthopedics, which serves Central Austin, Texas, Dr. Sean Gallagher provides orthopedic care. Dr. Gallagher was born and raised in Galveston, TX. He attended public school in the Galveston Independent School District, graduating in 1997 from Ball High School with Highest Honors. He then moved to Providence, Rhode Island, to attend Brown University. At Brown, Dr. Gallagher was involved in research on neural plasticity and continued this as a research technician at UT Southwestern Center for Neuroscience in Dallas after graduating from Brown with Honors in 2001.In 2002, he began medical school at The University of Texas Health Science Center Medical School at San Antonio. There, he met his wife, Ava, a pediatrician at 411 Pediatrics in Austin. They enjoyed living in the Hill Country during medical school and planned to return after finishing further training. Dr. Gallagher matched in orthopaedic surgery residency at The University of Texas Medical Branch in Galveston in 2006.
At UTMB, he became involved in clinical research and published his work in well known orthopaedic literature. In 2011, Dr. Gallagher completed his general orthopaedic training and decided to pursue further expertise in Lower Extremity Reconstruction, Joint Replacement (including revision hip and knee arthroplasty), and Cartilage Transplantation (Fresh Osteochondral Allograft Transplantation) at Scripps Clinic in La Jolla, California. Fellowship in orthopedic surgery is one or two additional years of intense surgical training and clinical research focused on a specialty within the field.
In August 2012, Dr. Gallagher and his wife Ava relocated to Austin, TX, to be closer to family. They have three young children and two 1 year old pug siblings.